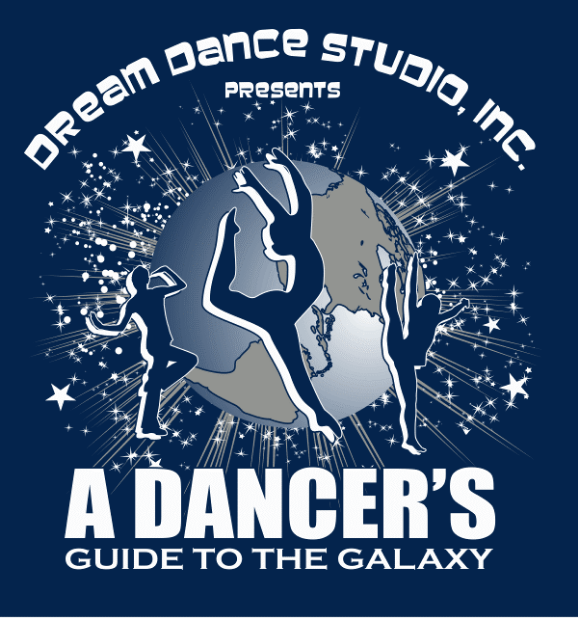 In this handbook you will read about the following details of the recital, which is scheduled for Saturday May 26th at 1:00 pm and 5:00pm:
Costume Distribution and Care
Required Shoes and Accessories
Recital Make Up
Parent Meetings
Program Pictures
Rehearsals
Video recording and Photography
Parent Volunteers
Tickets and Fees
Changing Costumes During the Show
Pictures
Jewelry and Underwear Rule
For the past 17 years, Dream Dance Studio, Inc. has provided students with an exciting performance experience through its annual recitals. The recital is the staple of a dance school. It gives our children a chance to shine in front of family and friends that they anticipate with nervous excitement. The recitals offer our students a professionally directed performance that allows them to present the results of a year's hard work, dedication, and progress. A big part of the dance training process includes learning through performance. The experience helps most build self-esteem, self-assurance, and contributes to a sense of confidence.
Although performance opportunities can help prepare some students for a possible career in dance, they also contribute to children's success in non-dance activities. That onstage experience can result in better in-school presentations, improved social skills, and strong interview skills for future college or job opportunities. The rehearsal process is a tremendous learning experience as well. It helps the children develop retention skills. By working with their classmates on a group performance, they learn the positive aspects of working as a team to create the best end result.
Dedication to recital commitments is the responsibility of both students and their parents. I have created this handbook in an effort to clarify what we expect from you in terms of commitments and responsibility to the annual recital, the studio, and other students and parents.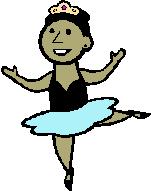 Recital Updates
As the season progresses, additional recital information will be distributed in our monthly newsletters. Make it your responsibility to keep abreast of this important information. My goal is to make the recital experience organized and exciting for all involved.
Home Study
To ensure that students feel comfortable and confident about their performance, I ask parents and guardians to encourage dancers to rehearse their recital choreography on a regular basis. A copy of the recital music will be available early in March. A charge of $8 per CD is required to cover expenses.
Program Ads
We will be offering space in the program to parents and family members that want to buy an ad in the recital program. Many parents have expressed interest in including a photo of their dancer and wishing good luck. Program ads are as follows:
$45 for ¼ page, includes text and 1 photo
$65 for ½ page, includes text and 2 photos
$115 for whole page, includes text and 4 photos
If you want us to take the picture(s) of your dancer in the recital costume(s) for you during the program picture week (April 16-19), you need to have your form in the week before. All ads need to be turned in at the front desk by April 26th. Below is an example of an ad. See the front desk for forms and more samples of prior years.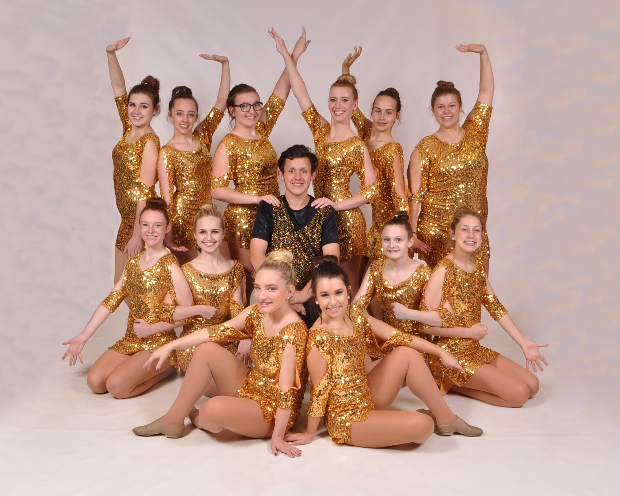 Costumes
Distribution
Costumes will be distributed when all outstanding balances for the season (including tuition and fees) are paid in full, but not before May 14th. Deadline for all balances (tuition, recital fee) is May 17th. To ensure that there are no costume problems, students should not wear their costume, accessories, or tights prior to dress rehearsal.
Withdrawal
No refunds will be made if a parent or guardian withdraws a child from classes after costumes have been ordered and prior to recital. Parents or guardians may pick up purchased costumes at the studio at the time of general costume distribution (May 14th -May 18th) and up to 15 days after the performance. Costumes not picked up after 15 days will be donated to charity.
Costume Care
I recommend that your child's name be placed in all costumes, shoes, accessories, and tights. Place costumes in a garment bag with your child's name on the outside. If your child has several costumes, a laundry basket is the easiest. Pack accessories in a clear plastic ziplock bag with your child's name on the bag and each item (if possible).
Tights
For the performance, make sure your dancer(s) have dance tights. Tights may be purchased at the studio.
– Please do not wear or wash tights before the dress rehearsal or performance.
**Do not wait until the last week to buy tights
Ballet-Preschool through 3rd grade: Ballet Pink Tights
Ballet-4th grade and up: Ballet Pink Body Tights
Jazz and Tap-PreK through 3rd grade: Suntan Tights
Modern 2nd-3rd grade: Transition Suntan Tights
Jazz, Modern, Hip Hop, and Tap-4th and up: Suntan Body Tights​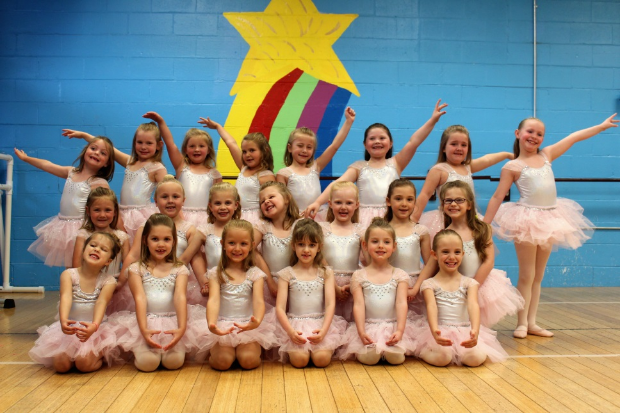 Shoes
The following shoes are required for all students:
Ballet: Pink Leather Ballet Shoes
Tap: Black Tap shoes
Jazz: Black Jazz Shoes
Modern: Nude Foot Paws
Hip Hop: Black Sneakers
Musical Theater: High School Tan Character Shoes
3rd – 6th Grade Black Jazz Shoes
Other Costume Rules
Please remember no jewelry, nail polish, or underwear (including bras) are to be worn at dress rehearsal or recital.
Class and Individual Pictures
On the days of the dress rehearsals, Creative Images of East Tennessee will be at the auditorium to take class pictures at the end of each dance. All parents will need to fill out a photo card for each class your child is dancing in.
Some classes will need to have their pictures taken before rehearsal starts to make sure everyone that changes costumes will be in each of their class pictures.
All high school classes will have their class pictures made on Thursday evening during the scheduled program picture week (April 19th). We will give the high school class a schedule when it gets closer to time for these pictures. All other Thursday classes will be taken that day also. Creative Images will be here that night and will take individual pictures during the dancer's regularly scheduled class.
If you choose to not have individual photos taken but would like the opportunity to order the class group picture, you will still need to fill out a photo card for each class your child is dancing in.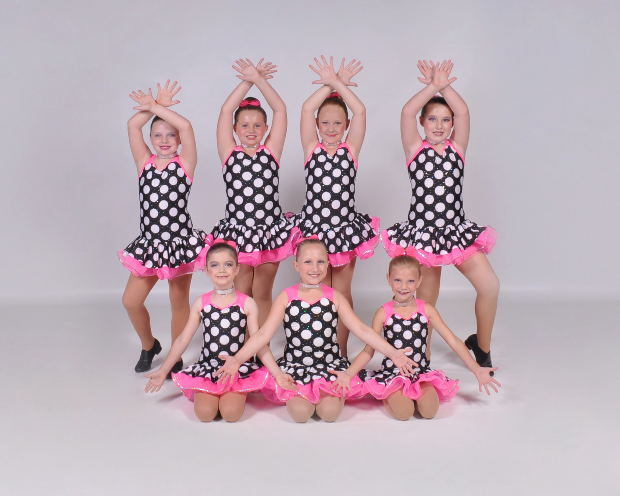 Hair and Makeup
Uniform hairstyles are required. All female dancers will wear their hair in a bun. No hair in the face. Dancers with short hair must pull their hair away from the face.
All female students are required to wear stage makeup for the recital in colors of plums. I have included an article found in a dance magazine about the importance of wearing stage makeup on stage.
"The Finishing Touch: Everything You Want to Know About Stage Makeup" By Kay Klausner, published in Goldrush Magazine
Ever hear the expression "They don't come to watch your feet"? It's especially true at recital time, when proud parents come to see their young dancer perform. No matter how much work has gone into the technique and choreography, the overall production effects and the beautiful smiles help make a performance memorable.
At what age should a dancer start wearing makeup?
All dancers who are in costume and onstage should wear makeup. Think of it as part of the costume.
Does that include preschool-age children?
Yes, because we want to see their bright eyes and big smiles. The only way to do that is with makeup-without it, features disappear and skin tones look washed out under stage lighting.
Is makeup safe for young children!
Yes, today's makeup formulas are lighter and easier to apply, so they won't damage even the youngest of most delicate skin.Should the makeup match the costume?
Trying to change costumes and makeup is too difficult to do in one show. Having one color palette for the entire studio is less confusing.
What kind of blush should we use, and where should it be applied?
Blush is an essential part of a dancer's makeup kit and important in achieving a uniform look onstage. A deep blush in a plum shade will work best for a variety of skin tones. You need a strong blush to frame the eyes and show the emotion of the dance. Use a powder blush because it will hold up best against heat
34the ear. Then add a lighter color of eye shadow-light purple, white, or sparkle-to the top of the cheekbone to highlight the eye and lift the cheekbones.
Tips for perfect stage makeup
More is better! If the makeup looks beautiful up close, it won't be enough onstage, where the costumes, lights, and movement wash
away the color. Remember, you want to see those beautiful smiles!
Auditorium Rules
No eating, drinking or smoking is permitted in the auditorium or changing areas. Dancers will remain with their class helpers during dress rehearsal and recitals when they are not onstage.
Tickets and Fees
The recital brings many expenses (lighting, renting the auditorium, scenery, security, janitors, props, etc). I do not charge enough monthly tuition to cover all these added expenses at recital time. Therefore, each dancer is required to pay a $20 recital fee ($35 for families with two dancers). The recital fee and all tuition must be paid in full before the dancers will receive their costumes. This small fee also allows us to charge less for tickets, which will hopefully encourage more of your family members and friends to attend the recital. This, of course, is the most important ingredient of our dancers' performance.
Recital tickets will go on sale April 28th from 10:00 am to 1:00 pm. Seating in the auditorium is assigned seats. The cost per ticket is $15. Tickets will be available for purchase during all regular studio hours in May. Tickets after we leave the studio will be $18- cash only.
Costume Changes During the shows
Many dancers will be performing in several different routines in this year's show. Costume changing is always a bit scary for parents because they are not in the changing area with their child. However, with proper organization and planning, costume changes will run smoothly. When you arrive at the auditorium, please proceed to the changing rooms (to the right of the auditorium entrance). Each dancer with a costume change will have their name hanging on the wall and a chair under their name. Once you locate your child's name, set up their costumes in the order that they are performed, including shoes, tights and accessories. I will have parent volunteers at each performance helping change dancers and ensuring they make it back to the stage in plenty of time. I recommend bringing costumes in a garment bag and a laundry basket for shoes, tights, and accessories.
Video and Photography
Parents and Guardians may video or shoot photographs of their children at dress rehearsal. Please Note: No video or flash photography, including the use of cell phones, will be allowed in the auditorium at the recitals. Not only is it very distracting to the dancers, we will sell out both shows; people who have paid to see the show will not appreciate video cameras blocking their view of their precious dancer. Security guards will ask you to take any cameras back to your car. We will hire one videographer to video both shows, and the video will be available for purchase. Orders for recital videos will begin in May.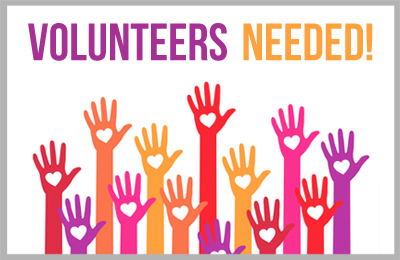 Recital Volunteers
Anyone interested in volunteering to help during dress rehearsal and recital is welcome and appreciated! The recital weekend is busy, and any help you can offer would be wonderful!
We need class moms to supervise each class during dress rehearsal and recitals. Class moms must make sure that each child in her care is safe and accounted for. They are responsible for making sure that each child stays with his/her class, is in the proper costume, has the proper shoes, tights, and accessories, and is backstage at the appropriate time.
We also need many other volunteers to assist in jobs such as costume changers, scenery, security, flowers and merchandise sales, ticket sales, and photo shoot. If you would like to help with the dress rehearsal and/or recital, please sign up at the front desk beginning in April, and thank you in advance!
Pre-Planning
The recital isn't a one-day activity. Gather all costumes, accessories, shoes, and makeup several days in advance so you'll know if something is missing or isn't right. Make a checklist of your child's routines, listing their costumes, tights, shoes, and any accessories and refer to it to make sure you have all your supplies before going to the auditorium.
Bring at least one extra pair of tights. Also bring extra hair gel, bobby pins, and hairspray. Other handy extras include:
Baby wipes/Shout wipes (to fix makeup mistakes or wash hands)
Baby Powder (for itchy costumes)
Safety Pins (For repairs)
Clear Nail Polish (to remove minor holes or runs in tights when there isn't time to change them)
Nail Polish Remover (in case you forgot to take it off already)
Pain Reliever of Choice
Band-Aids (the "invisible" kind)
Parent Meeting
For many parents and dancers (especially if this is your 1st year) all this information can seem overwhelming. I would like everyone to approach the recitals with confidence and excitement. Therefore, in the month of May we will be holding a parent meeting to make sure that all this information has been well received and understood. Parents of EVERY first year student are required to attend. Parents of all dancers must come and fill out photography cards. The meetings will take place in the lobby during class times to make sure it is convenient to everyone.
Program Pictures
The week of April 16th through the 19th, we will take pictures of each class to appear in the program at the recital. Hopefully, all the costumes will be in by this date and students will have their pictures made in recital costumes. However, just in case your child's costume has not yet arrived, please make sure he or she is dressed in tights and dance clothes appropriate for a recital program.
**Dress Rehearsals**
The dress rehearsal allows the students to become familiar with an auditorium and feel comfortable with their performance, costume(s), and being onstage. Lighting, music, cues, costume changes and all other logistics are rehearsed so that the students make the best impression possible. Participation in the dress rehearsal is mandatory.
I try run an organized and timely dress rehearsal; your help with the process will guarantee a professional production. Our Dress Rehearsals will be at the Hardin Valley Academy Auditorium this year. Please arrive at least 15- 30 minutes prior to curtain.
Students should arrive in their first performance costume with hair and makeup just like recital. Dancers will sit in the middle of the auditorium with their class and watch the show. Parents will sit on the sides of the auditorium. Dress Rehearsal is also the only opportunity for parents to video and/or take pictures. No video or photography is allowed during the recital.
Dress Rehearsal Guests
Parents and Guardians may accompany each student to the dress rehearsal. No other guests please! Each dancer will be given two complimentary tickets for the dress rehearsal.
Dress Rehearsal Drop-Off
Students will come to the auditorium wearing the costume of their first performance and sit with that class. If a student is in more than one routine, they will have their name posted in the dressing room. Place other costume(s) below the dancer's name and then proceed to the auditorium to find their class row. After the dancer has changed costumes, they will return to the auditorium and will sit in a new row with the other dancers in that routine.
Finale
All students are required to participate in the finale, which will be rehearsed during the last month of classes. A run-through of the finale will take place at the dress rehearsal between Acts I and II. After the finale is rehearsed at Dress Rehearsal, students who dance in ACT I only are allowed to leave, but are welcome to stay and watch the remainder of the show. All students will remain in their last performance costume for the finale.
Dress Rehearsal Dismissal
Students will be dismissed from rehearsal once they have completed all of their routines, including the finale. We will rehearse the finale between Acts I and II so that students who are not in Act II do not have to remain through the end of rehearsal.

Dates to Remember Concerning Recital
April 16-19 – Program picture week. Dancers will try on their costumes during the regularly scheduled class; their class picture will be taken for the recital program. Parents are welcome to come and take a picture also as long as they don't interfere with the studio photographer.
Saturday, April 28 – Recital tickets go on sale at the studio from 10:00am-1:00pm
May 7-10 – Mandatory Parent Meetings – Parents must attend a
meeting in the lobby during their child's class with staff
Tentative Schedule for Recital Week
(May 21st –May 26th)
Monday– At DREAM DANCE STUDIO
PreK Classes, Rehearsal 5:30-5:45
K -1st Grade, Rehearsal 5:40-6:15
2nd & 3rd Grade, Rehearsal 6:10-6:45
Musical Theater – 6:40-6:55
4th & 5th Grade, Rehearsal 6:50 -8:00
Tuesday- At DREAM DANCE STUDIO
Middle & High School, Rehearsal 5:30-8:30?
Wednesday-At Hardin Valley Academy Auditorium – Dress Rehearsal for Saturday Matinee 1:00 pm. performance 6:00-9:00 (Dancers
in Act 1 arrive at least 15 minutes and dancers in Act 2, 10 minutes prior to curtain)
Thursday– At Hardin Valley Academy Auditorium – Dress Rehearsal for Saturday Evening 5:00 performance 6:00-9:00 (Dancers in Act 1 arrive at least 15 minutes and dancers in Act 2, 10 minutes prior to curtain)
Friday– No Rehearsal (Rest!)
Saturday-Recital– Matinee At Hardin Valley Academy, Knoxville – Curtain at 1:00 (Dancers arrive at least 45 minutes prior to curtain)
Saturday -Recital – Evening At Hardin Valley Academy Auditorium, Knoxville – Curtain at 5:00 (Dancers arrive at least 45 minutes prior to curtain)